Advanced Systems Coaching
a smarter way to empower teams
Overview
We work with teams as whole systems. We focus on the web of relationships which make up the system, exploring the subtle but powerful forces at work within teams which help or hinder team performance.
Using advanced systems coaching techniques and state-of-the art team diagnostic tools, we reveal what's "really going on" in terms of team dynamics and the impact this has on team results.
We hold you and your team co-responsible for team culture and team results. By tapping into the collective intelligence which resides within the system, we enable you and your team to find your own powerful solutions for change.
In essence, we EXPLORE, EVOLVE & EMPOWER teams in a smarter and more effective way than conventional team coaching or "team building".
A core principle of our work is to "treat change as a process, not an event". Our team coaching programmes have a continuity and "flow", designed to support and challenge teams in a step by step approach towards peak performance. Team Coaching sessions vary from ½ to 2 day encounters with programmes charted over clearly defined periods (usually 6 to 12 months) to accompany teams on a transformational journey of change.
"We are created not for isolation, but for relationships.  At heart, we are not a thousand points of separated light but, rather, part of a larger brightness.  Within organizations, caring and committed relationships are not a luxury.  They are a necessity."
– D. Johnson and F. Johnson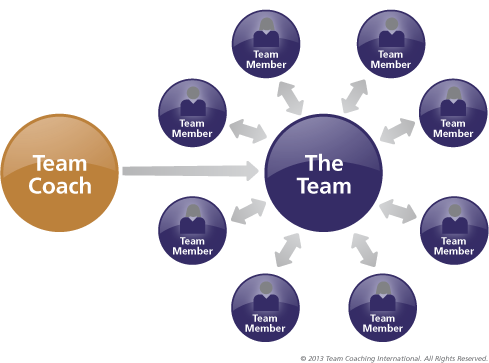 The Systems Coach works with the whole system as opposed to individuals within the system. The Coach reveals the "system to itself" – its strengths, its challenges and its potential.