Team Diagnostics Overview

Mapping the route to team success
Developing a high performing team starts with clarity. Clarity about what's happening "now" and clarity about what the team wants "next". Navigating successfully from "now" to "next" is the collective responsibility of the team leader and the team.
We enable you to quickly gain the clarity you need so you can move forward with confidence – using an innovative suite of Assessment Tools, licenced by Team Coaching International.
The TCI model provides an internal health scan of the team in terms of Productivity (team results) and Positivity (team culture). The data is compiled into several levels of analysis which reveal team strengths, team challenges and team potential for development. With this level of information and insight, you and your team can create your own powerful roadmap for team success.
The results are practical, proven and measurable.
Compared to other team assessment tools on the market, the Team Diagnostic has the distinct advantage of assessing the performance dynamics of the team as a "SYSTEM" rather than as a collection of individuals. This gives you and your team a significant headstart in terms of self-managing your "system" to generate and sustain the conditions for team success.
Team Diagnostics set in motion a powerful domino effect to release collective potential and transform team results:
Team clarity facilitates team choice. Team choice primes team action. Team action accelerates team growth. Team growth shifts team results.
Learn more about how Team Diagnostics can benefit your organisation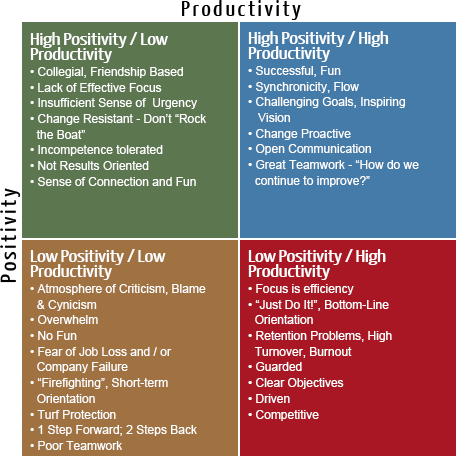 Team DiagnosticTM graphic used here with permission from
Team Coaching International (TCI)
According to global research conducted by TCI , only 10% of teams view themselves as « high productivity/high positivity ».
Contact us to find out how you can boost your team's performance to ensure a better ROI for your business.